2019
De-Stress Days at UNI
P.E.T. P.A.L.S. volunteers brought pets to the library in December to give college students a stress free, not-studying-for-finals break in their routine.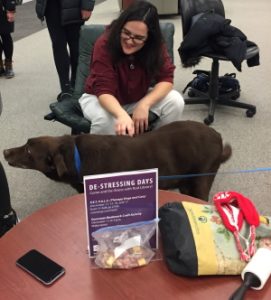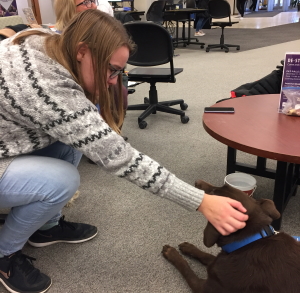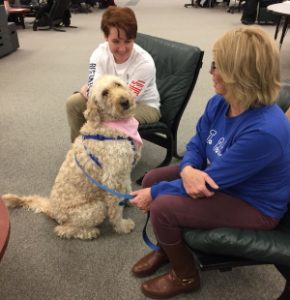 Tree Decorating Contest
Lincoln Savings Bank invited P.E.T. P.A.L.S.  to participate in a tree decorating contest in connection with an open house announcing their future home on the top three floors of the Waterloo Tech Works.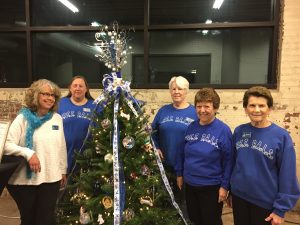 Four non-profits were given a lighted tree to decorate along with funds to purchase decorations at Hobby Lobby.  Kathy Matthias headed the project along with help from Sue Lund, Rachelle Yousefi, Terry Page, and Jan Thompsen. The tree was decorated with figures of dogs and cats along with various blue and white ornaments to coordinate with our organization's colors. Special ornaments were created with actual photos of our visits inside clear bulbs. The finishing touches had blue and white streamers down the tree with a stuffed kitten tucked into a large bow at the top.
It was an exciting evening as invited guests from the Cedar Valley arrived. When exiting the elevator, they viewed the trees and could vote for their favorite. At the end of the evening, P.E.T. P.A.L.S. had received the most votes and was the winner of $500.
Once again, we were able to share about our organization and how we are of service to the community.
Celebrating Paw Power
On October 14 of  2019, P.E.T. P.AL.S  celebrated its annual Volunteer Appreciation Dinner  at the Waterloo Center for the Arts. "Paw Power" was chosen as the theme of this year's event since P.E.T. P.A.L.S. volunteers often experience  the magic that four paws can bring when walking into the room of someone who needs extra love and attention.
A large committee of volunteers worked tirelessly to be sure that everything went smoothly from setting up the room and gathering door prizes to preparing food and planning for the evening's program.
Several area businesses provided pet items to decorate tables and serve as favors. People were able to put everything into a pet toy box that was also donated. (Thank you to Pet Supplies Plus, Pet Smart, Rustic Hollow, and the Cedar Bend Humane Society.)
We were very fortunate  to have Dr. James Kenyon share his experiences in caring for sled dogs during the Iditarod trail race in Alaska. This is an annual long-distance sled-dog race held in early March from Anchorage to Nome.
Everyone was fascinated by the stories and pictures he shared.
P.E.T. P.A.L.S. values its volunteers and wants to celebrate the role they play in enriching the lives of so many in the Cedar Valley. We hope that people continue to look forward to attending this yearly event. Please be sure to save the date for the next dinner which will be on October 19,  2020.