2019
Tree Decorating Contest
Lincoln Savings Bank invited P.E.T. P.A.L.S.  to participate in a tree decorating contest in connection with an open house announcing their future home on the top three floors of the Waterloo Tech Works.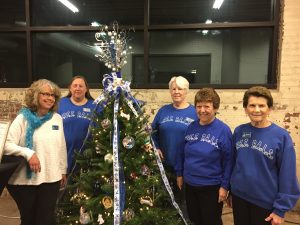 Four non-profits were given a lighted tree to decorate along with funds to purchase decorations at Hobby Lobby.  Kathy Matthias headed the project along with help from Sue Lund, Rachelle Yousefi, Terry Page, and Jan Thompsen. The tree was decorated with figures of dogs and cats along with various blue and white ornaments to coordinate with our organization's colors. Special ornaments were created with actual photos of our visits inside clear bulbs. The finishing touches had blue and white streamers down the tree with a stuffed kitten tucked into a large bow at the top.
It was an exciting evening as invited guests from the Cedar Valley arrived. When exiting the elevator, they viewed the trees and could vote for their favorite. At the end of the evening, P.E.T. P.A.L.S. had received the most votes and was the winner of $500.
Once again, we were able to share about our organization and how we are of service to the community.
2018
De-Stress Days at UNI — December 2018
P.E.T. P.A.L.S. volunteers will bring pets to campus to give college students a stress free, not-studying-for-finals break in their routine.
Paws to Remember — October 15, 2018
P.E.T. P.A.L.S. has reached a remarkable milestone: our 35th birthday! Get ready to celebrate the big event on October 15, 2018 at the Waterloo Center for the Arts.
The theme for the dinner is "Paws to Remember," and that is exactly what will happen as some of the founders of P.E.T. P.A.L.S. reminisce about the early days of our organization. Committees are busy getting decorations ready for a party atmosphere. Lots of work is being put into the event so that everyone has a memorable evening.